Financial Impact Series: No Risk, All Reward
Part 1: Try Before You Buy and Conversion Rates
As the eCommerce world continues to evolve, online retailers are constantly searching for ways to improve customer satisfaction while increasing profitability. Enter Try Before You Buy (TBYB), the savvy merchant's secret weapon that allows shoppers to experience your products before making a purchase decision, just like they would in-store.
TBYB replicates the in-store experience by allowing customers to try out products at home, with no upfront commitment. Shoppers decide at the end of their trial period whether or not they want to send items back, and they're only charged for what they keep. By allowing customers to experience products at home, Blackcart-powered merchants are able to drive profitability through a number of ways.
In this three-part series, we'll take a deep dive into the financial benefits of integrating Try Before You Buy into your eCommerce store. We'll explore how it can increase your conversion rate, boost your average order value, and improve your return on ad spend. Plus, we'll provide real-world examples of merchants who have successfully implemented TBYB, and offer practical tips for getting started with this model.
Read on as we uncover the many ways that TBYB helps drive your bottom line and transform the way you do business online.
---
Part 1: From Browsers to Buyers
How Try Before You Buy drives increased purchase conversions for your online store
Online shopping has skyrocketed in popularity over the past several years. While it offers convenience and speed to shoppers, eCommerce merchants are painfully aware of how challenging it is to convert website visitors into paying customers. This reality rings particularly true for high-consideration purchases.
When faced with a big checkout decision, a staggering amount of customers abandon their cart altogether. The bedding and mattress industry, for instance, has notoriously high abandoned cart rates - nearly 80%. Shoppers are reluctant to put up hundreds, or even thousands, of dollars for an item they haven't experienced in person.
Blackcart's Try Before You Buy (TBYB) software is changing traditional online shopping by eliminating the friction and uncertainty associated with online shopping, translating into higher purchase conversions for eCom merchants. In the following sections, we'll explore the tangible impact of TBYB on conversion rates through real-life examples.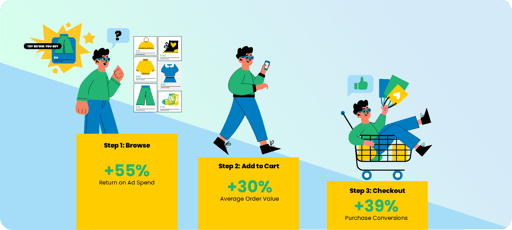 ---
How TBYB and Conversion Rates are Closely Linked
The average eCommerce conversion rate is anywhere between 2-3%, while the in-store conversion rate is much higher, at 20-40%. The root cause of this is in the eCommerce sensory gap; the inability to experience a product before buying causes a massive drop-off between website visitors and purchase conversions.
Consequently, the critical factor driving the success of a Try Before You Buy program is the fact that the shopper is able to test the item before making a purchase decision, significantly reducing risk and uncertainty. This is particularly important for purchases that require a substantial financial investment - like mattresses and bedding.
TBYB builds trust with customers by offering a low-risk shopping experience, as well as demonstrates a confidence in your product quality that would otherwise be difficult to convey online. All in all, eCommerce merchants experience higher conversion rates after implementing TBYB. One Blackcart-powered merchant was able to use TBYB to boost their conversion rate by a staggering 39%, ultimately adding millions to their bottom line.
---
A Success Story
One company that has successfully implemented TBYB is online bedding merchant Dormeo. In their 20+ years of operation, Dormeo has consistently put innovation and customer service at the forefront of their business. But the inability for shoppers to test mattresses was leading to low purchase conversions and profit loss. As a result, Dormeo partnered with Blackcart to integrate TBYB on their website.


Dormeo was quickly able to capture more shoppers, recover abandoned carts, and boost their purchase conversion rate. The high-consideration nature of mattresses was a thing of the past for mattress shoppers who could now confidently test items at home. After the integration of TBYB, Dormeo experienced substantially higher add to cart and conversion rates.
Don't just take our word for it. To definitively measure the impact of TBYB on purchase conversions, the company conducted an A/B test. This type of testing involved presenting different variations of a webpage to different groups of visitors to determine which version performs better. In this case, a portion of Dormeo's traffic was provided with a TBYB option alongside the existing pay upfront option, while the remaining portion was presented with the pay upfront option only.
---
A/B Testing Results
The results of the A/B test were striking. The TBYB variant drove a 39% increase in purchase conversions compared to the pay upfront only variant. Shoppers were significantly more likely to checkout when offered the option to try Dormeo bedding. This data demonstrated the benefits of Blackcart's software for conversion rates, and most importantly allowed Dormeo to make an informed decision about the effectiveness of TBYB.
To further assess the impact of TBYB on their customers, Blackcart also asked a question on the post-checkout page: "Was Try Before You Buy a deciding factor in your purchase today?" An overwhelming 88% of the 430 respondents answered "Yes". This indicates that TBYB played a crucial role in the decision-making process for many customers and further supports the benefits of a risk-free buying experience.
By providing a risk-free way to try products, merchants are able to solve concerns around cart abandonment and see significant improvement to their conversion rate. As Dormeo's experience shows, implementing Blackcart's Try Before You Buy software can be a game-changer for online merchants looking to boost their bottom line through increased conversions.
Interested in seeing exactly how Dormeo utilized Try Before You Buy to add an additional $4.2M to their incremental net sales? Check out the full case study here.
---
The success of TBYB is not limited to the bedding industry. Blackcart has been successfully implemented across a range of industries, including fashion, beauty, and electronics. In each case, merchants have seen a significant increase in conversion rates and profitability.
All in all, Blackcart can have a significant positive impact on an online merchant's conversion rate. By reducing the perceived risk associated with high-consideration purchases, TBYB converts more shoppers who would have otherwise abandoned their cart. A/B testing and customer feedback further support the effectiveness of the program. Online merchants, like Dormeo, can benefit from implementing TBYB by providing a risk-free buying experience that builds trust and drives profits.

Want to see the financial impact of TBYB for your own business? Get a free personalized ROI analysis here.