The Impact of Try Before You Buy on your eCom Return Rate
If you are a merchant seeking to boost profitability and increase new customer acquisition, you might have stumbled upon Try Before You Buy (TBYB). With any new tool, there's a lot of research involved to figure out if it's the right fit for your business. One concern you may have is how the TBYB offer will impact your return rate.
In this post, we're going to investigate this concern in detail and share a P&L example demonstrating why returns should not hold you back from offering TBYB.
How TBYB Affects Shopper Behavior
TBYB addresses shopper uncertainty around making a purchase. Today, visitors with uncertainty abandon carts or browse-then-bounce. Offering TBYB converts some of these hesitant shoppers into buyers, leading to new, incremental orders. The promise that converts these shoppers is an easy return experience if they aren't happy.
Impact on Return Rates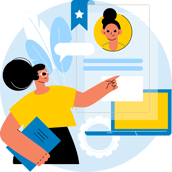 By converting hesitant shoppers, TBYB will generate new orders that wouldn't have been captured otherwise. But some of these buyers won't be satisfied and will send back an item.
Blackcart's merchant data reveals that with TBYB, the return rate will likely increase as it is an explicit part of the offer to shoppers. Our merchant partners typically see their return rates increase by 5-10%. An increase in returns isn't desirable on its own, but it's important to review the entire financial impact of TBYB, beyond just returns.
A Practical Example

Below is one example order. TBYB delivers two benefits - increased purchase conversion rate and a higher net AOV. The increased conversion rate shows up in the 'Advertising cost' row of the P&L. TBYB uses existing site traffic and generates incremental orders, without any additional advertising cost. In the P&L, there is no advertising cost associated to this incremental order.
A 5% higher net average order value is used in this example. Shoppers often opt into a more premium product to try or will add another item to their order. This 5% increase is a conservative estimate; merchants often see a larger increase.
The higher return rate can be seen on the Returns allocation row. The return rate assumption for TBYB is 5% higher than the regular Online Store channel.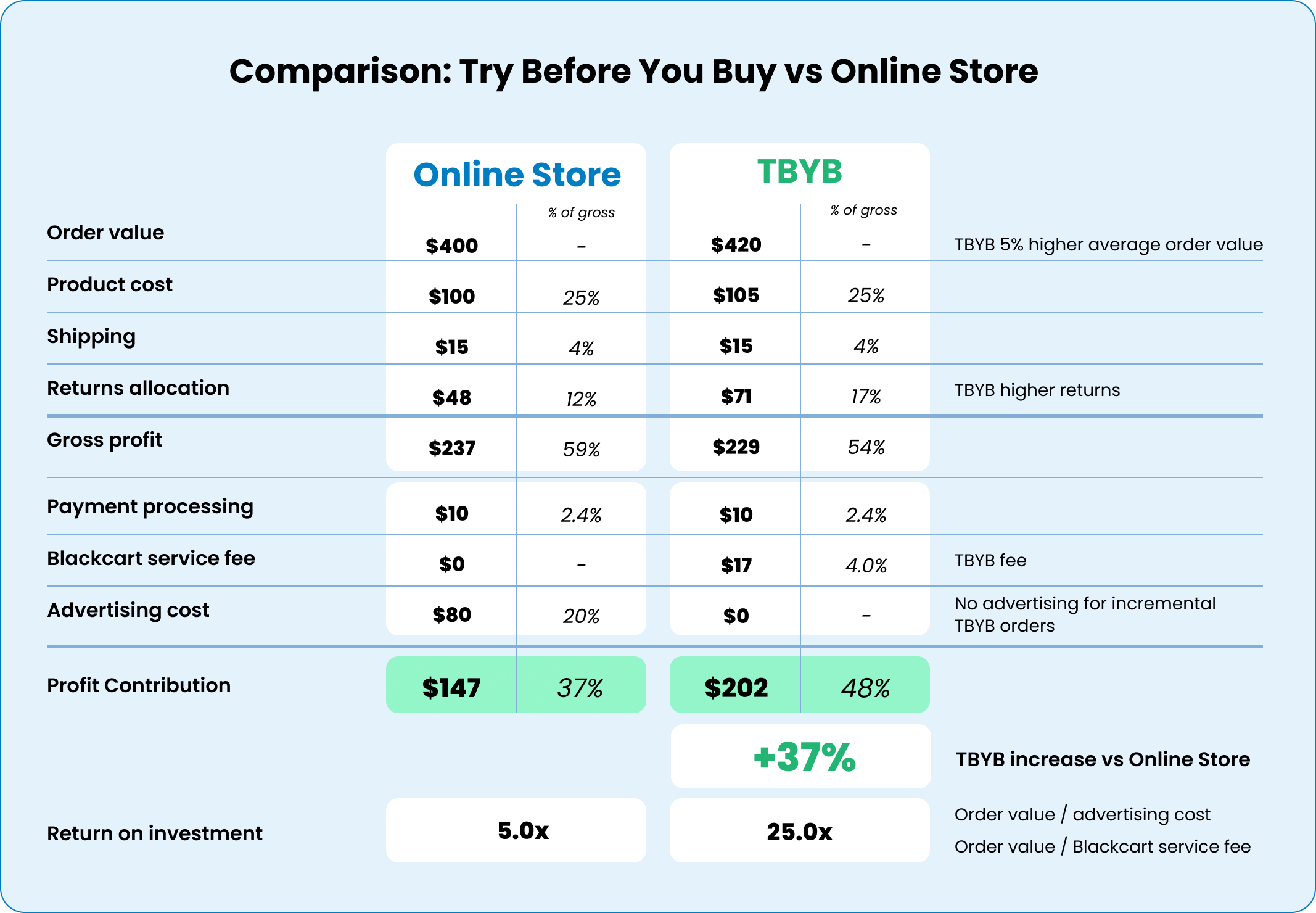 In this example, the TBYB order generates 37% more profit contribution.
---
It is the case that TBYB typically increases returns, as it's part of the offer being made to hesitant shoppers. But it's not the whole story. The financial benefits - higher purchase conversion and higher net average order value - far outweigh any cost. The net result is new, incremental orders that are typically more profitable than standard orders.
Would you like to review this analysis for your business?
Book a call with a member of our team and we'll prepare a P&L projection with your store's inputs so you can see the impact of TBYB.