Distinguishing between Try Before You Buy offerings like Blackcart and Buy Now Pay later offerings like Afterpay.
There's a level of fear your customers experience when shopping online. It takes a lot of guesswork to figure out if something will fit, how it will look in real life, or if the quality is up to their standards. Customers feel anxious putting up hundreds of dollars without even seeing an item in person. When confronted with this uncertainty at checkout, many of them abandon their cart altogether.
As a result, many brands have implemented financing solutions for their online store. In the case of Afterpay, a Buy Now Pay later (BNPL) eCommerce service, shoppers are able to split an online purchase over the course of a couple months. Afterpay essentially issues a loan customers pay off in place of credit.
---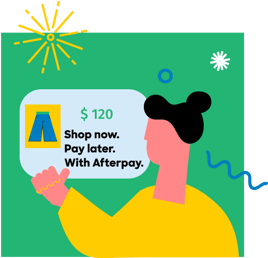 Why Afterpay?
Many of the financial barriers associated with online shopping are eliminated by BNPL services such as Afterpay. Afterpay merchants help their customers make purchases that they would otherwise not be able to afford in full. And while a failed credit check or late payments may lower their credit score, shoppers should have no problems if they pay off their loan on time.

---
Why Blackcart?
In contrast, Try Before You Buy (TBYB) allows your customer to try items at home before committing to an upfront payment. Shoppers are already accustomed to being able to touch, feel, and try items in a brick-and-mortar store before paying at the register. TBYB enables that same experience, but online. Blackcart-powered merchants solve for browser uncertainty and allow customers to experience products in person, only being charged for kept items at the end of their trial period.
---
What is the difference?
While these may sound like a lot of buzzwords, the difference between Try Before You Buy and Buy Now Pay Later lies in the type of solution each one provides. BNPL converts shoppers who may have otherwise abandoned their cart due to financial constraints. However, it does not address the fundamental issue underlying online shopping, which is uncertainty rather than affordability.
Your customers want to make purchases, but the fear and uncertainty of online shopping holds them back. Even if they have the means to finance their purchase, they're hesitant to checkout due to uncertainties around sizing, appearance, and quality. And if they can't find answers to their questions, 55% of shoppers will fully abandon their cart.
TBYB works by removing all the risks associated with online shopping, such as browser uncertainty, upfront payments, purchase-commitment anxiety, and frustrating returns. It converts shoppers who would otherwise abandon their cart due to product uncertainty. Not to mention, when customers are given the confidence to add items to their cart, they end up trying more and buying more, resulting in increased average order value and net revenues for your store.
Trying out items before checking out isn't a new concept; shoppers have been doing it for years in traditional brick-and-mortar stores. However, it is new in the world of eCommerce. And customers are eager to try it because that is how they have always shopped - trying first, then buying. TBYB adoption rates average around 38%, compared to 7% for Afterpay. This means that 38% of your customers will choose TBYB to checkout as opposed to 7% choosing BNPL services.
---
At a glance: functional differences between TBYB and BNPL.
Blackcart (TBYB)

Afterpay (BNPL)

No credit card holds

No credit checks

No credit score impact

Returns management

Mixed shopping cart

Minimal costs

Shopper opt-in rate

38%

7%

Solves for

Product


uncertainty

Product
affordability
---
How do I choose the right service for my shoppers?
When deciding between solutions, there's a few factors to be considered. If your priority is addressing financial barriers amongst customers, a BNPL service will likely be beneficial. However, if you want to get your products into the hands of more customers while eliminating risk and uncertainty, then TBYB is the right solution for you.
That being said, keep in mind that TBYB and BNPL aren't mutually exclusive; they can coexist on your website. In fact, many Blackcart merchants also use Afterpay. TBYB is the next step in eCommerce that can work complementary with BNPL to provide shoppers both solutions. BNPL is a great start because it gives shoppers more control over their online spending. However, for many customers, it does not address the primary reason they abandon their cart, which is their inability to touch, see, and try before paying. Only a TBYB offering can alleviate this concern and increase conversion among customers.
---
Want to learn more? Schedule a free demo with a Blackcart team member.