Welcome to part 2 of our series uncovering the financial impact of Try Before You Buy for your eCom store. In part 1 we discussed how Blackcart helps merchants increase their purchase conversions - one company in particular doing so by a staggering 39%. In this part, we're going to take a closer look at average order value (AOV) impact. No fluff, just facts - let's jump right into it.
---
The link between Try Before You Buy and (net) AOV
TL;DR: When your shoppers try more, they buy more.
By now you likely have a decent understanding of what Try Before You Buy is - a customer-centric approach that allows shoppers to experience products before making a purchase decision. Just as they'd do in-store. One of the many advantages TBYB offers eCom merchants is its proven record of success in boosting average order value.


When given the option to checkout at no upfront cost, financial barriers are removed from the equation. Shoppers feel confident filling up their cart, as well as exploring complementary items, allowing for more upsell and cross-sell opportunities and ultimately driving higher AOV.


At this point you're probably thinking: this sounds great for increasing the initial AOV, but what happens when it comes time for shoppers to make a purchase decision and they don't keep all of the items from their order? Well, turns out shoppers love your products as much as you do because TBYB data shows that customers keep more, after returns, than a comparable shopper without TBYB.


A merchant offering TBYB experiences up to 57% higher AOV after returns (net AOV). The reason for this is because when shoppers try more, they keep more - substantially more than if they hadn't been given the option to try before they buy. It's also why in-store conversion rates are higher than online (check out part 1 of the series for more on this) - the ability to touch, see, and try leads shoppers to add more items to cart.


Just as we did in part 1, we're going to use real-world examples to explore this effect. Blackcart merchants Dia & Co. and Dormeo have both witnessed remarkable improvements to their net AOV, so let's explore why and how this happened.
---
How replicating the in-store experience boosts AOV
TL;DR: TBYB increases the likelihood that shoppers fall in love with more products
Dia & Co. is a leading retailer in women's plus-size fashion, housing over 200 brands and carrying an extensive selection of sizes. The company believed there was a fundamental need for touching, seeing, and trying an item in-person before buying it online. But without a brick-and-mortar store, they had to get creative and thus integrated Blackcart's Try Before You Buy.

When it comes to the fashion industry specifically, 70% of purchases are made offline. This is largely due to customers wanting to try items on first before making a purchase decision. What's more, in a survey by First Insight comparing consumer spending in-store vs. online, it was found that 71% of shoppers spend more than $50 when shopping in-store, where only 54% of shoppers spend more than $50 when shopping online.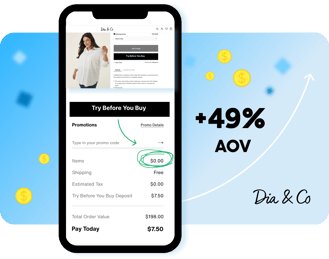 Dia & Co. experienced this first-hand after implementing a Try Before You Buy offer and witnessing their average order value skyrocket by 49%. The company discovered that when shoppers were given the confidence to fill their carts - especially in an industry where sizing can be so inconsistent - they actually had increased cart values. By replicating the in-store experience where consumer spending is typically higher , shoppers try more and consequently buy more of what they love.
---
Cracking the code on upsell opportunities
TL;DR: TBYB makes it easier than ever to sell complementary products


Dormeo was seeing substantial increases to their purchase conversions on their mattress toppers after offering Try Before You Buy. An A/B test proved that TBYB helped boost conversions by 39%. The success didn't stop there. The company decided to utilize TBYB as a means to increase their onsite upsell opportunities and further improve profitability.


When adding a mattress topper to their TBYB cart, shoppers were presented with the option to also add Dormeo premium pillows to their purchase, also at no upfront cost. If a shopper is in the market for a new mattress topper, they're likely willing to explore a new pillow as well. It's also not a particularly pricey item, so financial barriers were unlikely to come into play, making it the perfect complementary product.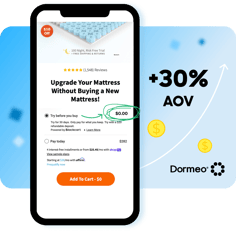 By providing shoppers the opportunity to explore additional products during the trial period, Dormeo quickly witnessed a considerable boost to the AOV (even after returns) of each customer. This seemingly 'small' upsell opportunity through a TBYB offer ultimately led to an increase in net average order value of 30%.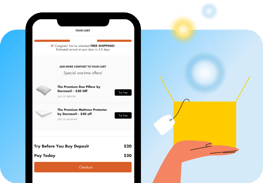 As you can imagine, the snowball effect is greater than just the initial boost in AOV, with TBYB later having a positive impact on the customer lifetime value of shoppers. By providing a positive experience and allowing for customers to try more than they originally might have, Dia & Co. and Dormeo built a stronger relationship with shoppers. Ultimately leading to higher CLV through repeat purchases and positive referrals.

The Try Before You Buy model is not just an innovative customer experience strategy; it's a robust revenue-maximizing tool. By leveraging Blackcart's TBYB model, merchants can significantly boost their net AOV as was the case for both companies. If you want to learn more, you can see exactly how each merchant accomplished this here.
---
The success story of Dia & Co. and Dormeo after their TBYB integration exemplifies how this strategy can positively impact a merchants AOV and upsell opportunities. By reducing checkout barriers and empowering customers to make confident purchases, Blackcart drives increased profitability and customer happiness.
As eCommerce continues to evolve, Try Before You Buy emerges as a powerful tool for merchants to drive bottom line growth. If you're curious on how specifically Blackcart can do the same for you, book a free demo with our sales team.
Unlock untapped financial potential: