Welcome to the third and final installment of our deep dive into the financial impact of Try Before You Buy. In previous sections, we've explored positive effects on a merchant's purchase conversions, average order value, and now we're looking into leveraging TBYB to drastically improve advertising performance and return on ad spend (ROAS) to bolster your bottom line.
---
The ROAS Revolution

The digital advertising landscape is a complicated battleground where merchants compete fiercely for the attention of consumers. The challenge becomes even steeper when we take into account the surge in advertising expenses over the past few years. According to BusinessWire, it is now on average, three times as costly to acquire new customers.
The rollout of iOS 14.5 included changes related to ad targeting and privacy policies that have resulted in significant decrease in ad performance, with merchants seeing lower return on every dollar spent. Cost-per-click is also increasing as platform competition for brands ramps up. As a result of expensive ads and insufficient first-purchase profitability, companies are beginning to rely on alternative approaches to see better return on ad spend.


Your optimal ROAS will depend on various factors, but a good benchmark to aim for is 4:1 - $4 earned in revenue for every $1 spent on ads. It's a no-brainer that lowering your ad spend will help you save some money, but digital advertising is crucial for new customer growth. That's why this next section isn't about cutting back on advertising but rather, use your ad dollars more effectively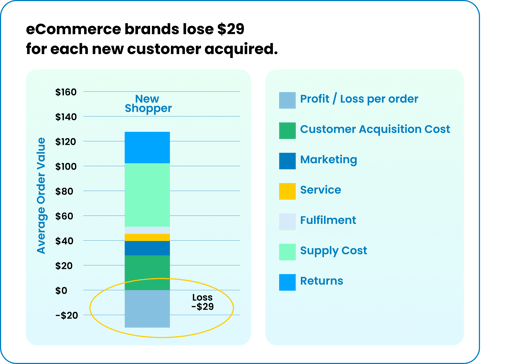 "In 2013, merchants lost an average $9 for every new customer acquired, but today merchants lose $29, a 222% rise in the last eight years."
---
How Try Before You Buy helps improve ROAS

Blackcart-powered merchants have found that leveraging TBYB helps them increase their ROAS and see improved campaign performance in several different ways. If you want the TL;DR version, TBYB increases purchase conversion and net average order value on your store; increases ad click through conversion by including the TBYB offer; and requires no additional advertising spend, resulting in higher ROAS. But there's more to the story:
1. Boosting merchant's revenue
Help make each advertising dollar work harder.
It's no coincidence that parts 1 and 2 of this series were about increased purchase conversion rates and higher average order value in your eCom store. These two factors alone contribute to a substantial increase in net revenues which in turn leads to higher ROAS.


Blackcart uses your existing store traffic to generate incremental sales – this means no additional advertising cost. With the same advertising budget, you can drive higher net sales by integrating TBYB, helping make each sale count more towards your company's bottom line.


So, instead of reducing advertising budget, Blackcart instead places focus on maximizing profit margins through increased purchase conversions and AOV. When given the option to try before they buy, shoppers are not only more likely to complete checkout but they also convert with higher-than-average cart values. This leads to the ability to keep the historical advertising spend but increase sales from this channel, resulting in better ROAS.

As we've seen in previous parts, it ties into removing all friction and uncertainty from the customer journey. Shoppers, when offered the ability to try a product without immediate financial obligation, are significantly more inclined to make a purchase. This freedom mitigates the inherent risk associated with online shopping and leads to improvements of many key metrics.


As a result, the average merchant experiences up to 57% higher AOV and 23% more purchase conversions after integrating Blackcart. Since larger, more frequent orders contribute directly to revenue, your company is driving higher ROAS with TBYB while spending the same amount on ads.

---
2. Strong value proposition
Cut through the advertising noise.

A good value proposition in your ad messaging is key to getting consumers to click through and consider a purchase. Unfortunately, banner blindness is a very real thing - there's hundreds of ads competing for shoppers' attention at any given moment. At a certain point consumers begin to tune these out making it very difficult to stand out in a sea of advertising competitors that all seem to offer the same thing.


One of the reasons merchants have seen success after integrating TBYB is because nothing draws shoppers in more than an offer to try something for free. "Try Before You Buy", "No upfront payment", "Checkout for free" may sound like buzz words but they are music to consumers' ears. These are the ads that get customers to click and later - convert.


As a result, Blackcart merchants have found that retargeting and acquisition ads that promote TBYB alongside their products have a 30% higher conversion rate than non-TBYB product ads. Check out some of these high-converting ads from existing merchants who promoted TBYB in their messaging and delivered an unbeatable value proposition:

---
3. Customer Acquisition
The most profitable customer acquisition tool.

Acquisition costs have risen substantially in the last several years, making it more difficult for eCommerce merchants to maintain acceptable margins. While new customer acquisition is one of the key goals of advertising, it's become challenging to keep CAC at bay. New research shows a whopping 222% increase in customer acquisition cost.


Blackcart merchants are finding that it is significantly less expensive to acquire new customers when offering TBYB. It's a culmination of the key factors we've discussed thus far: a TBYB ad is more likely to get click conversions than a non-TBYB ad, and these clicks are more likely to checkout (and with higher cart values) when presented with a TBYB offer.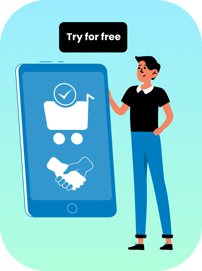 Since CAC is a measure of marketing and sales expenses divided by the number of new customers acquired, the incremental increase in new customers driven by a TBYB offer helps significantly lower CAC.
It's why TBYB is commonly used as an acquisition tool for merchants - it's an all-in-one secret weapon for driving profits while generating more new customers at no additional cost.


This merchant in particular found that TBYB helped them increase their ROAS by 40%, ultimately achieving higher revenues and more new customers while staying within budget. Plus, Blackcart's model fosters customer loyalty and encourages repeat purchases. When customers know they can try items without any upfront costs and have a positive experience, they're more likely to return to the same store, contributing to better customer LTV in the process.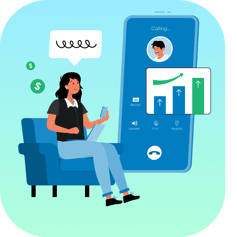 The Try Before You Buy model as implemented by Blackcart is an invaluable tool for merchants. It provides more than just a customer-friendly shopping experience; it offers a robust, data-driven strategy to help businesses significantly enhance their digital advertising performance. By increasing conversion rates and AOV, making every ad dollar work harder, and driving customer acquisition, Blackcart can help merchants improve their ROAS, as demonstrated by the success story of many current merchants.


Digital advertising doesn't have to be a game of chance. With Blackcart, it becomes a calculated strategy that leads to success.
---
With that, we're wrapping up our series on the financial impact of Try Before You Buy. If our record of success in increasing purchase conversions, AOV, and ROAS piqued your interest, book a free demo with a member of our sales team to learn more.