When the Stakes are High
Why Try Before You Buy is Essential for High-Consideration Products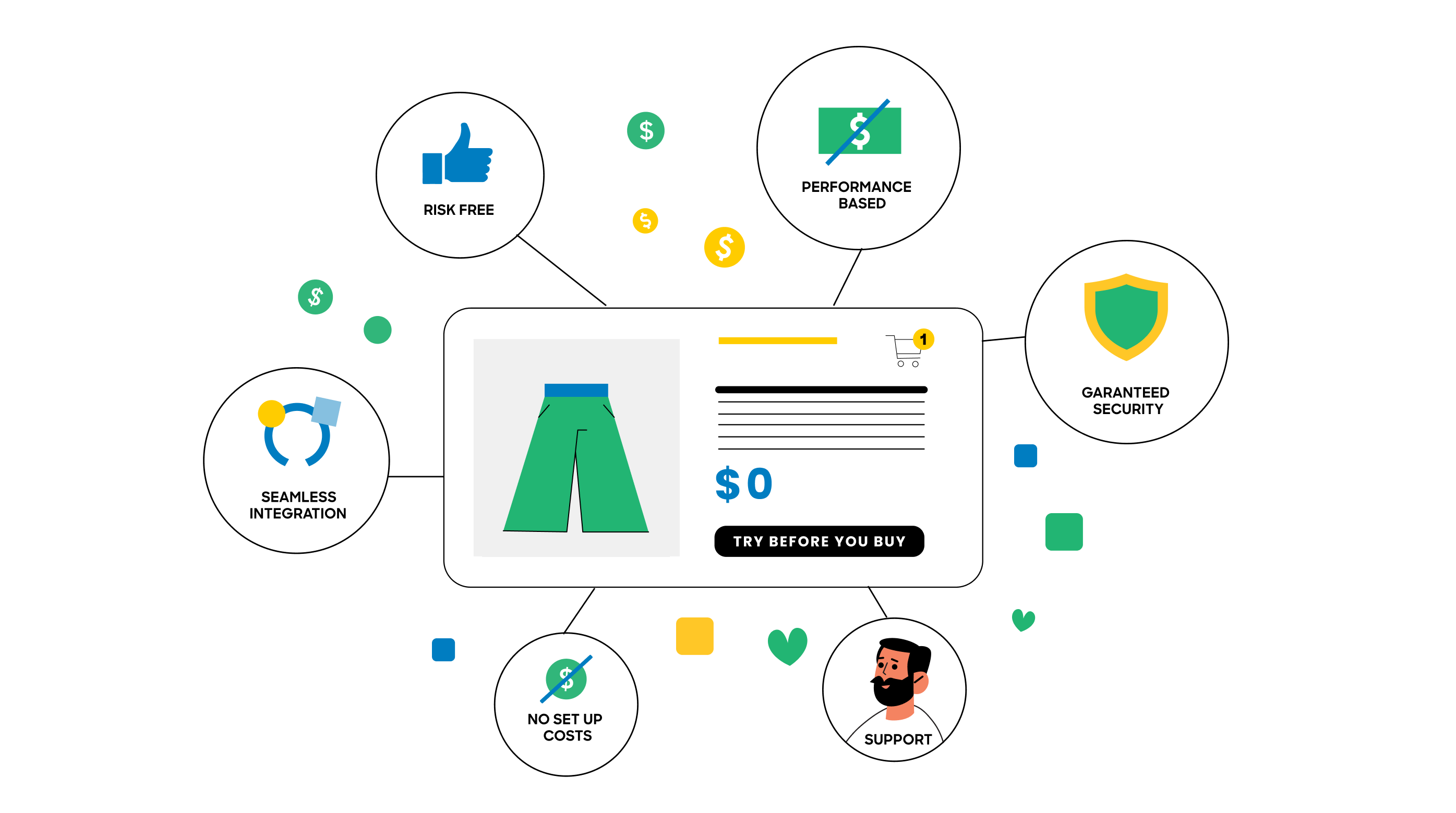 The online shopping landscape has drastically changed how we purchase products. While it offers an unmatched convenience, it can lack the tactile, personal experience found in traditional brick-and-mortar stores. The ability to touch, see, and try items is an aspect that eCommerce has struggled to replicate.
This challenge becomes especially pronounced when it comes to high-consideration purchases like luxury apparel, plus-size clothing, mattresses, or jewelry. Consumers often have to invest a lot of time, energy, and upfront financial commitment into these purchases, resulting in more checkout barriers compared to other types of products.
For brands with this type of product, it is especially important to bridge the gap and alleviate concerns that shoppers have over online vs in physical retail. Blackcart merchants have found that a 'Try Before You Buy' model where shoppers can try items at home before making a purchase decision eliminates these barriers and greatly increases the likelihood of customers checking out.
---
The High Price Point Factor
Eliminate upfront financial barriers from the checkout process.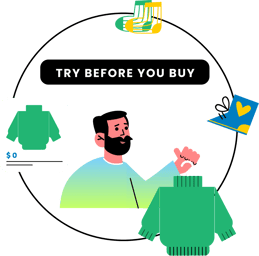 High-consideration items typically carry high price tags. This is especially true for luxury apparel and jewelry brands - they are not just products, they are investments. A purchase isn't made lightly, so shoppers want to ensure they're making the right choice before spending a significant amount of money.
Unsurprisingly, high-priced items lead to a lot of financial barriers for shoppers. Add to that the potential of additional shipping fees, complicated return policies, and uncertainty around products, and brands find themselves deterring customers rather than converting them.
Blackcart merchants, however, empower their customers with the assurance that they can evaluate their investment not from behind a screen, but in the comfort of their home. This visceral experience gives shoppers the confidence that their hard-earned money will be spent wisely, helping break down these barriers.
Not only does this result in higher purchase conversions for your site, but shoppers will also be more likely to keep the items at the time of the purchase decision. In fact, according to a study by BusinessWire, 82% of shoppers are more likely to purchase a product after seeing, trying and demoing it in person.
The lack of upfront payment helps convert shoppers who may not have otherwise taken a chance on your product. This is why Blackcart merchants can experience up to 39% more purchase conversions after integrating TBYB. Physical interactions with products play an irrefutable role in purchase decisions and ultimately help justify the price tags of high-consideration purchases.
---
Conveying Quality Through a Screen
Communicate your value proposition by allowing your products to do the selling.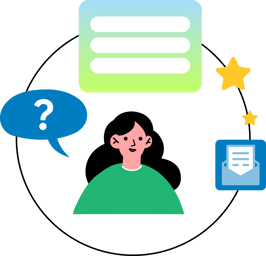 Many eCommerce merchants rely on a value proposition centered around quality in order to sell their products, taking pride in durable, high-quality materials that are expensive to source. The problem with online shopping though is that it's difficult to convey that level of quality through a screen. Shoppers can't feel the fabric of a top or see how shiny a ring is.
Images and descriptions online can only communicate so much. Ecommerce merchants hoping to convert customers solely through quality assurance could potentially have a hard time doing so because shoppers are reluctant to trust fancy claims - especially if the item is expensive.
TBYB flips this scenario by allowing shoppers to interact with the product, and examine the quality of materials, craftsmanship, and finish before making a purchase decision. For luxury, high-quality items, where even minute details matter, this opportunity to physically inspect the product is important to limit the risk perceived by the shopper.
Customers can examine the product intimately, at their own pace and where they are most comfortable. They can note the precision of the stitching on a jacket, feel the luxurious softness of cashmere, or check the clarity and cut of a stone. They won't have to guess whether or not your claims around quality are legitimate - they'll know with certainty.
First-time customers in particular have no way of knowing or trusting your products and may be reluctant to checkout. A TBYB option helps in converting these skeptical shoppers, boosting first-purchase profitability, and building customer trust. Not only does this model attract new customers, but it does a great job at ensuring they keep coming back.
---
Sizing inconsistencies in the industry.
Remove all friction and uncertainty when it comes to sizing and fit.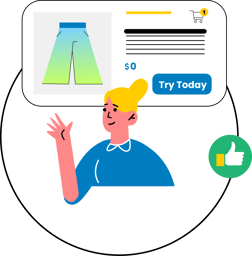 High-consideration items don't always have to be high-priced goods - the term can apply to anything that requires reflection and research. Many shoppers, particularly in the extended sizing market, struggle when it comes to finding their perfect fit, having to do countless hours of research.
The main issue is that sizing is not standard across different brands and sometimes even within the same brand. As well, traditional retail often lacks a comprehensive range of plus-size options, forcing these customers to resort to online shopping.
TBYB addresses this issue head-on – instead of relying on size charts and guesswork, customers can simply find their perfect fit at home. Providing the opportunity to try on items in person greatly enhances the shopping experience as well as increases the likelihood that shoppers fill their carts and end up spending more than they would have without TBYB.
Dia & Co, one of the fastest-growing plus-size merchants, has seen this first-hand after integrating Blackcart. The company experienced a 49% boost in average order value (even after returns) after they gave shoppers the confidence to add more items to cart. You can read exactly how they did it here.
---
In the era of digital commerce, the Try Before You Buy model is revolutionizing the high-consideration purchase experience. It mitigates common issues associated with online shopping, like assessing the high price point value, verifying quality, and dealing with sizing inconsistencies.
The result? Increased conversions, higher AOV, more cash added to your monthly bottom line, and a shopping experience that customers come back to. Learn more about offering a superior online shopping experience. Book a free demo with a member of our team: